Included in this guide:
1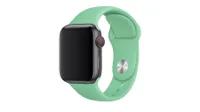 Apple
Sport Band
2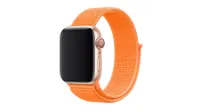 Apple
Sport Loop
3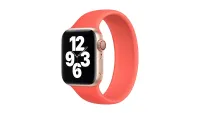 Apple
Solo Loop
4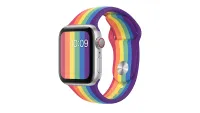 Apple
Pride Edition Sport Band
5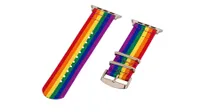 Clockwork
Synergy Classic NATO Band
6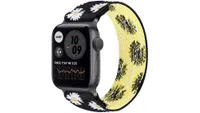 Shijzwd
Nylon Elastic Solo Loop Watch Strap
7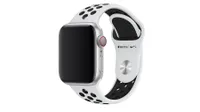 Apple
Nike Sport Band
8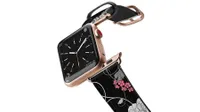 Casetify
Printed Apple Watch Band
9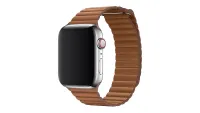 Apple
Leather Loop
10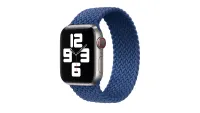 Apple
Braided Solo Loop
11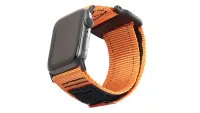 UAG
Active Watch Band
12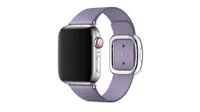 Apple
Modern Buckle
13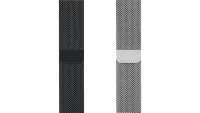 Apple
Milanese Loop
14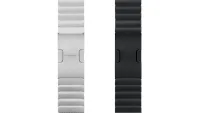 Apple
Link Bracelet band
15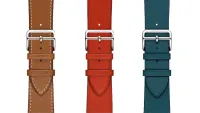 Hermès
Fauve Barenia Leather Single Tour band
16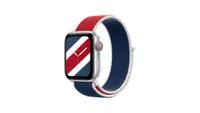 Apple
International Collection Sport Loop
With so many different choices out there, knowing what the best Apple Watch bands are can be a tricky business. Apple has its own selection to choose from but there's also a seemingly never-ending amount of third-party Apple Watch straps out there to choose from too. 
Not all of these are the best Apple Watch bands though so we've narrowed things down to the actual best of the bunch. We know our stuff having used all the Apple Watch models since the very first one back in 2015 so we know what to look for in a good strap.
Apple updated the Apple Watch design with the Apple Watch 4 and Apple Watch 5, culminating in the latest Apple Watch 6, but straps will fit these models even if they are designed for an earlier version as the small and large sizes are interchangeable. All you need to do is make sure you're buying the right size. Apple Watch 4 and above have 40mm (small) and 44mm (large) sizing, while older Watches are 38mm (small) and 42mm (large). 
Once you've figured out your sizing, the biggest decision comes down to what design you want and how much you want to spend. Some bands are quite understated while others are extravagant and glitzy accessories to show off. It's not always obvious which one costs more either. If you want to celebrate and support the LGBTQ+ movement, Apple has just launched two new Apple Watch Pride Edition bands too which are eye-catchingly lovely. 
For our roundup, we've ordered the best Apple Watch bands from cheapest to most expensive to simplify things for you. Whatever your tastes, we think there's something for everyone and every situation here. That goes for whether you have an ageing device or the latest Apple Watch 6 or Apple Watch SE.
These are products that we haven't had in our test labs, but based on our experts' opinion and knowledge of the most reputable brands around, we think these are worth looking at.
Our selections take into account online reviews, brand reputation, product capability or unique features, to help you pick through the maze of choices available to you.
Not sure how to switch straps? Here's how to change Apple Watch bands
Best Apple Watch bands and straps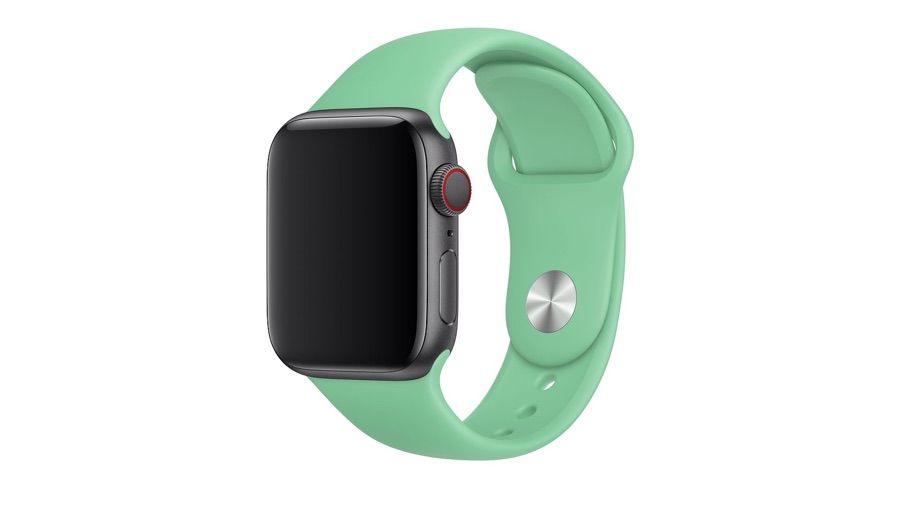 If you'd rather not have a band full of holes the original Sport band remains an excellent all-rounder.
It's pricey because Apple, but it's also made of nicer materials than the knock-offs you'll find on certain auction sites – and that means you're not going to end up with odd things happening to your skin after a few hours of wear.
It's available in fifteen colors to suit most outfits and there's a charity-helping Product Red version too. You don't need to worry about getting the right size, either: you get S/M and M/L straps in the same box.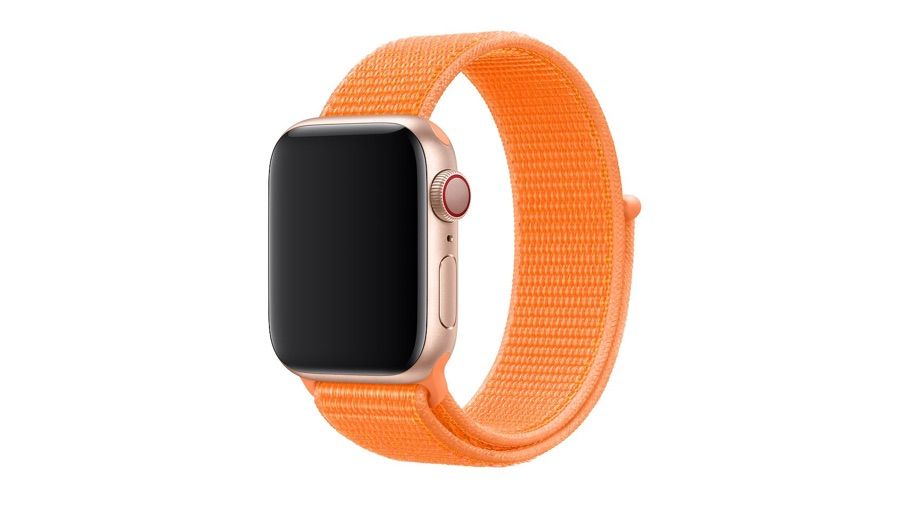 Yes, it's another official Apple strap and that means official Apple money – but we've found Apple's nylon bands to be really hard-wearing and comfortable. The Sport Loop is made from double-layer nylon and has a clever design on the skin side that uses larger loops for cushioning and breathability.
Because it's a sports design the colors can be on the bright side, but the Cerulean, Product Red and Pink Sand versions are a bit more subtle and there are some suitably sober blacks and greys too. It's a useful option for fans of NATO straps who don't want to cover their Apple Watch's sensors.
Apple launched this all in one stretch loop strap with the Apple Watch 6 and Apple Watch SE. It's the first official Watch band that's one piece, a rubberised coloured loop that stretches over your fingers and snaps onto your wrist.
It comes in several dark and bright colours and is a good choice if you find any sort of puckle uncomfortable. The confusing point is that it comes in nine different sizes and requires you to work out which size you are with Apple's size guide. But if you get the right size then it's a good pick.
Apple has released a Pride watch band to the public yearly since 2017 and this is the new one for 2020 (there's also a Nike version). It's the first time the company has made one in its classic Sport Band design, and it's a bright bold statement of support and unity.
The strap is die-cut by machine and then compression moulded together, meaning the seams of the colour strips on each strap are unique. 
It's unclear if buying the band contributes money to LGBTQ organizations (like buying a Product Red Apple item does for the Red AIDS charity) but Apple does state that it works actively with "Encircle, Gender Spectrum, GLSEN, PFLAG, SMYAL, the National Center for Transgender Equality and The Trevor Project in the US; and ILGA World internationally."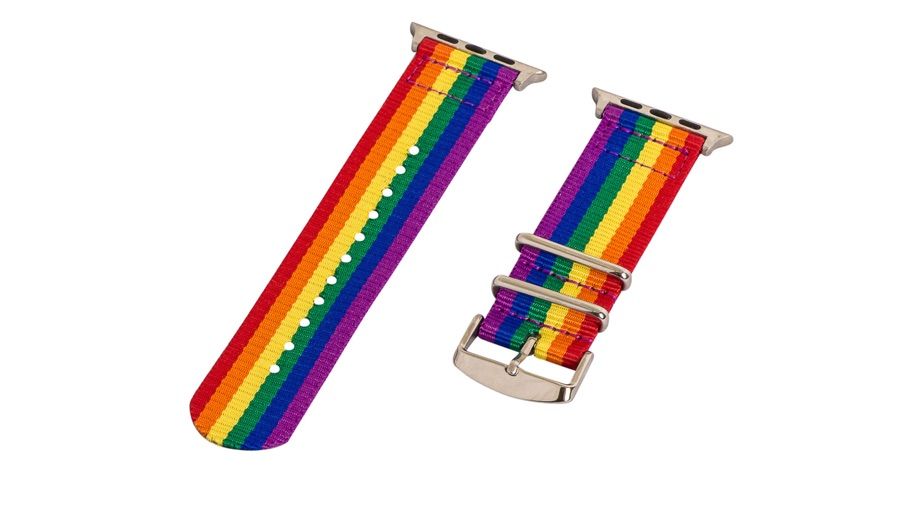 Pedants would argue that these aren't NATO bands, because that describes a very particular kind of strap that runs under the watch itself, whereas these are two-part Apple Watch straps. But screw those guys! 
These NATO-a-likes look very much like the real thing and come in a range of designs clearly designed to cover all bases – so there's a good old-fashioned US flag right next to a brightly colored Pride rainbow (although unlike Apple's Pride band there's no charity benefiting here), and plenty of other options too.
In the mood for expressing yourself? These Shijzwd Nylon Elastic Solo Loop Watch Straps make it easy. A choice of different bands include sunflower patterns, leopard prints, tartan, and a Love logo, so you can truly stand out from the crowd.
Each watch strap is a stretchy design so you can easily slip the band around your wrist within seconds. That means you'll need to pick out the right size for you but the convenience factor lends itself ideally to this fast fashion style way of doing things.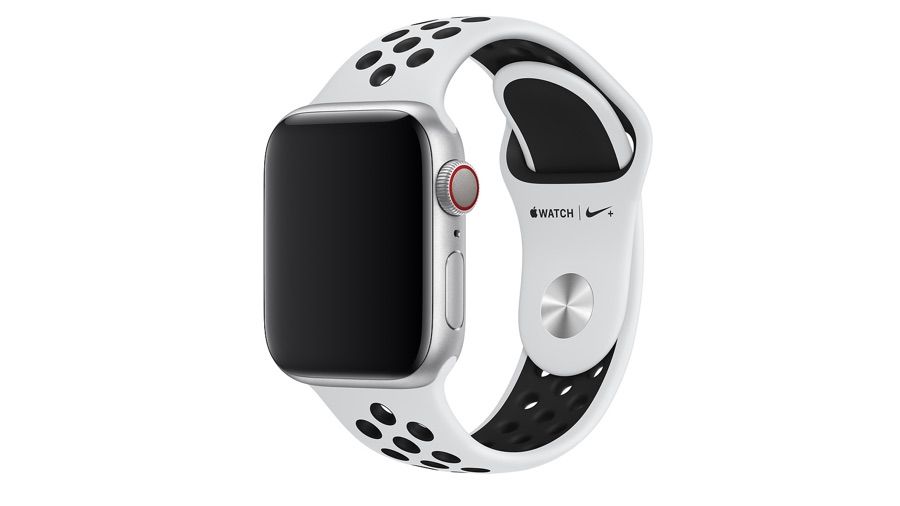 The official Apple/Nike Sport Band has the toughness and design simplicity of the normal Sport Band, but it also has those compression-molded perforations – or what we like to call "holes".
Those holes make a big difference to the long-term comfort of the Apple Watch because they enable your skin to breathe under the strap.
The range of colors isn't quite as exhaustive as for the normal Sport Band and some, like the Black/Volt one, are a little loud for wearing outside the gym, but there are still some subtle shades such as Teal Tint, Smokey Mauve and Spruce Fog.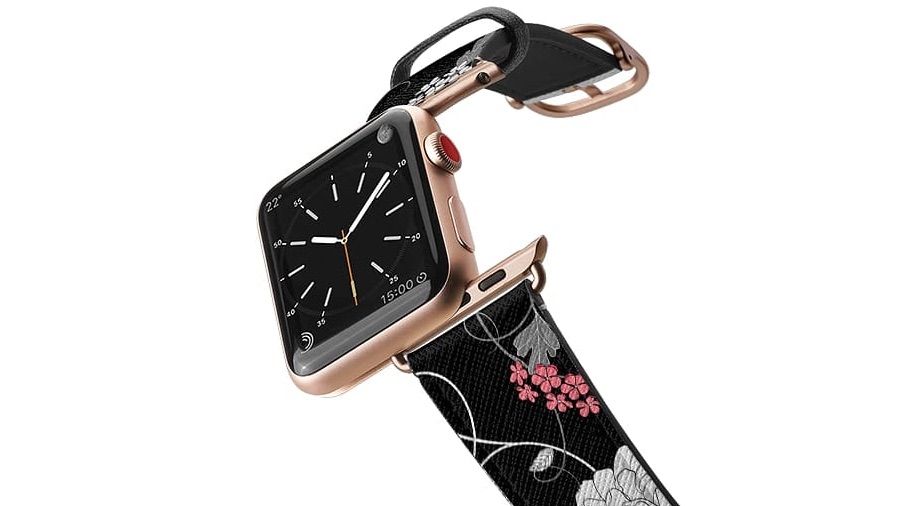 Casetify's printed bands are tons of fun, and probably cheaper than you might expect. Made from cruelty-free faux leather, the bands come in a dizzying variety of designs and colors from animal prints and bold florals to geometric patterns, emoji and flags.
There should be something here to suit all tastes and all kinds of looks: for example, there's a beautiful black strap with dark red and grey florals that would go well with a nice frock, or you could relive the 1990s with fluorescent smiley faces.
Straps come in both watch sizes and you can choose between gold, black or silver fixings and buckles.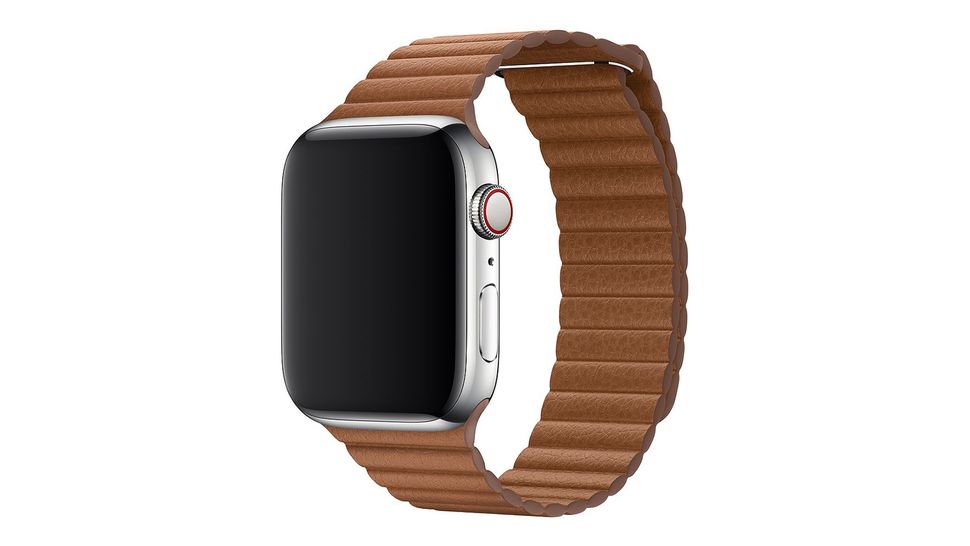 A pricey official strap but an excellent one, the Apple Leather Loop comes in yellow, brown or black. Its party trick is its clever segmented magnetic closure that means you can get a precise and comfortable fit every time. 
This is the Watch band to buy if you like wearing your Apple Watch to formal events or for work and feel a standard rubber one isn't quite the right look. That's what you get with leather that;s hand made in Arzignano, Italy.
Note though that this strap is only a 44mm option – so it'll only fit the larger 44mm Apple Watch 4 and 5 and only the 42mm Apple Watch 1, 2 and 3. 
Released alongside the rubber Solo Loop, this is Apple's other one-piece strap. It's made from a stretchable soft silicone material that's threaded to feel soft. The advantage here is that it looks slightly more formal than other bands but is still sweat and water resistant.
You'll just have to make sure you buy the right size (use Apple's size guide) as there are nine different ones to choose from. There are only five colours to choose from though, so you might find a better choice elsewhere.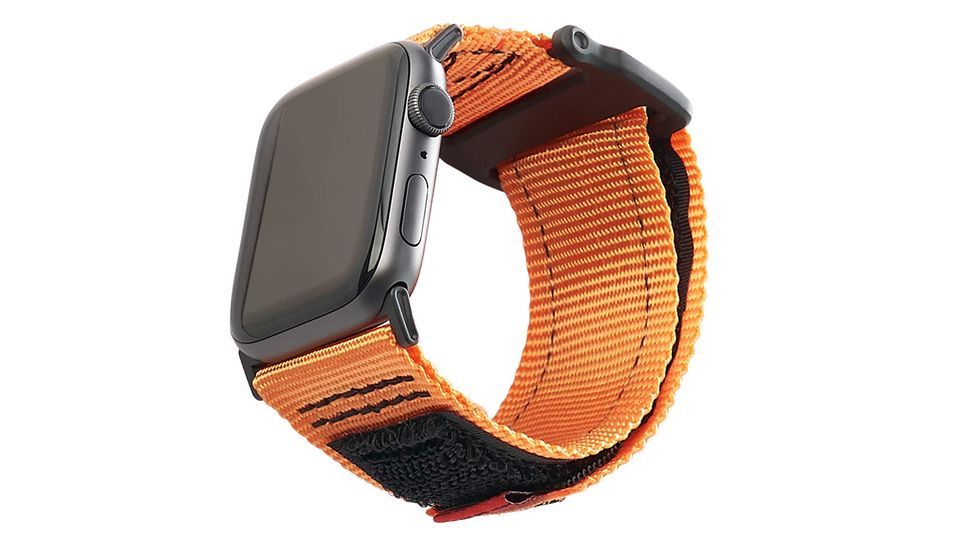 If you're the outdoorsy type then this is the strap for you. Available in orange, black and camo and made of a high strength nylon weave, it's the perfect Watch band for the active lifestyle.
Compatible with all Apple Watch series of both sizes, the look is finished off with a big stainless steel buckle. It isn't the most subtle of straps but if you dig the look then this will make a great wrist addition.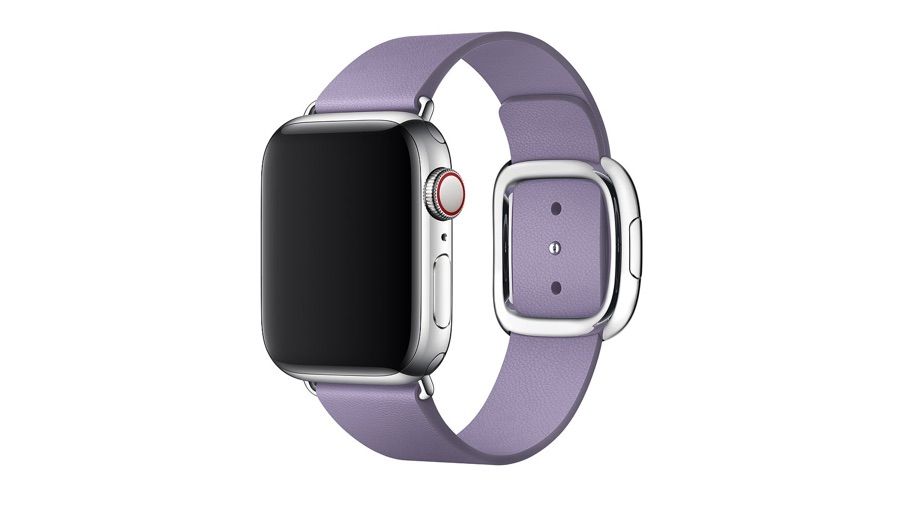 At $149/£149 they're hardly cheap, but Apple's leather Modern Buckle options are genuinely beautiful and are so much cheaper than the Apple/Hermes options. 
The Modern Buckle is a smooth leather with a large rectangular buckle that echoes the shape of the Watch itself, and Apple keeps different colors in stock depending on the season.
It's a great option if you want an official leather band from Apple with a non-magnetic design.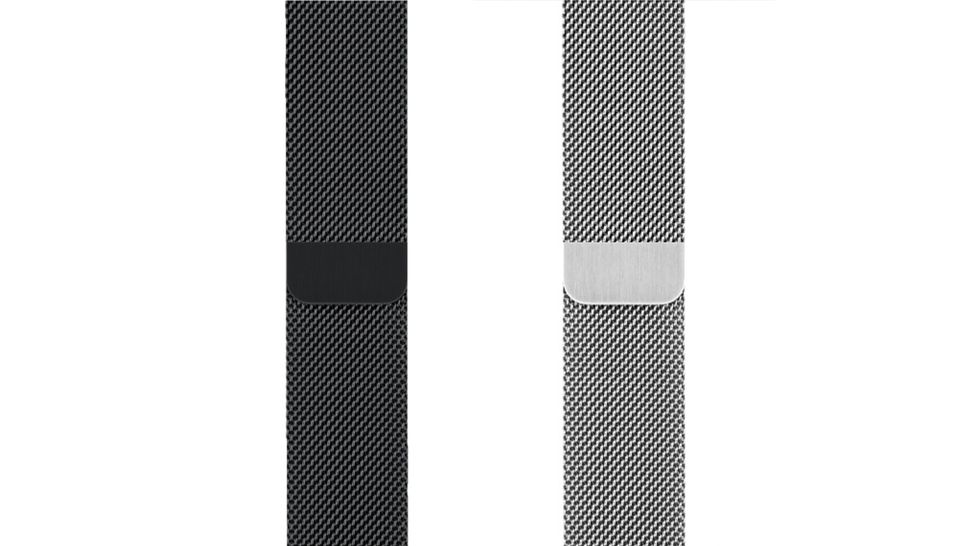 Possibly the most sought-after Apple Watch band, the attention that the Milanese Loop band receives is warranted.
At a similar price to the Leather Band, owners can get their feet wet with a cool-to-the-touch stainless steel band that ekes elegance and simplicity in its design.
You'll know at first glance if this band is for you, and if it is, you can choose between traditional silver and black options.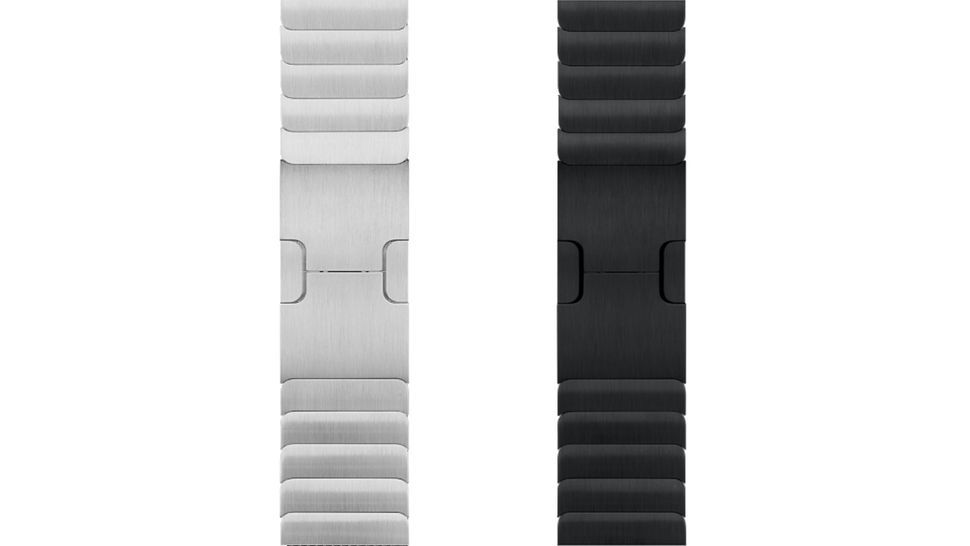 OK, now we're getting up there in price. Apple offers up its brushed stainless steel Link Bracelet, but it isn't going to be cheap.
Build materials aside, this couldn't be any more different than the Milanese Loop. Rocking a look akin to high-end analog watches, the Link Bracelet possesses a sophisticated sheen that the others don't.
Equipped with a watch tool, you can customize the size to perfectly fit your wrist and if silver doesn't suit you, it's also available in black. Paired with the Apple Watch, this is probably one of the slickest bands you can make your own.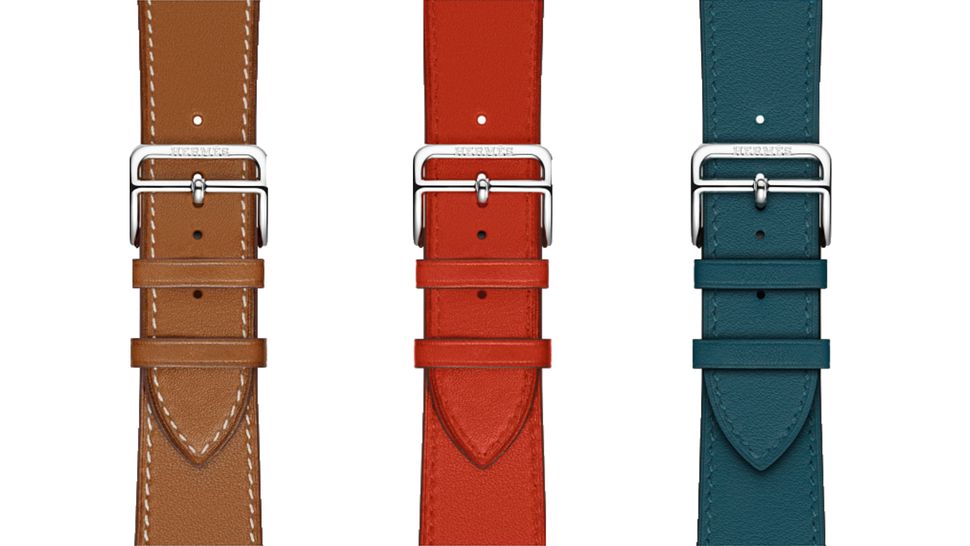 One look at the name and you know this is going to be pricey. For your money, you're getting industry-leading Hermès design in a band, complete with master-class fabric stitching and leather quality that's unparalleled in the vast batch of Apple Watch bands available. 
It might cost a lot, but if you're a watch aficionado, there's not substitute for quality.
A limited edition offering, Apple has a choice of 22 nation flags turned into some rather attractive looking Sport Loops. The idea is that you match your watch face with the strap so you get the look all over, representing your country or simply one you like the look of. 
Water resistant and workable in the gym, if not as ideal as something plastic-based, it's highly breathable with a hook-and-loop fastener for easy adjustments. A double-layer nylon weave feels good on your skin while allowing moisture out. It's all suitably classy stuff if you want to represent your nation when out.
Now check out the best Apple Watch apps


Source from www.techradar.com