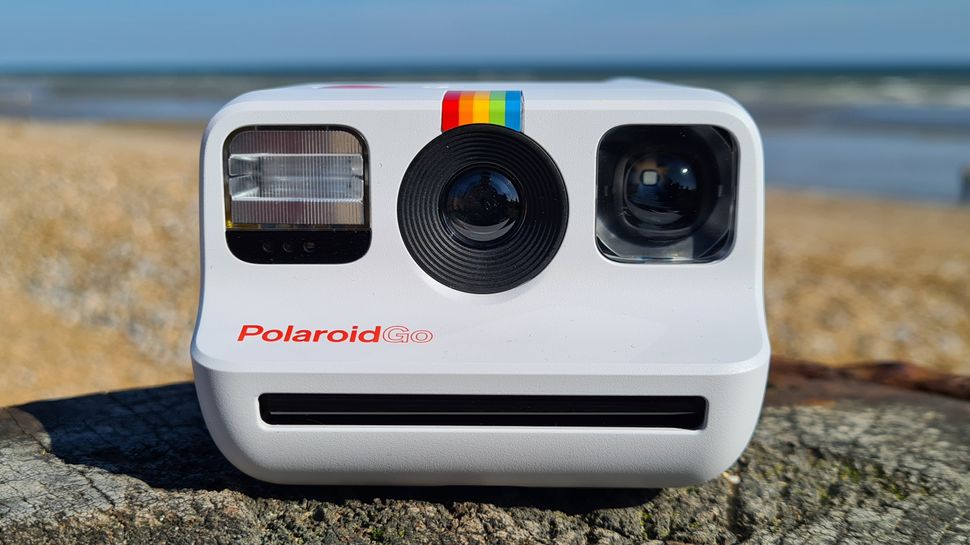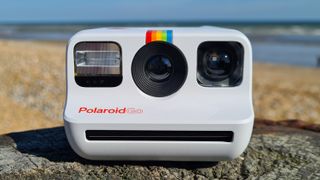 Looking for the best instant camera to buy in 2021? We've tested all of the latest retro cameras, from the best Polaroids to the finest Instax models, and brought them together in this handy guide. Whether you're looking for a reasonably-priced instant camera for wedding guests, family fun or personal analogue projects, you'll find the right model for you here.
Instant cameras might seem like a bit of an old-school throwback in 2021, but there are plenty of reasons why you might be considering one – particularly if you're looking for something different from phone photography. Instant cameras give you a tactile print to hold in your hands, stick on the fridge and pass around to friends – that might seem a little old-fashioned, but the novelty remains for a reason.
Another bonus is the fact that instant cameras are often super-simple to get to grips with, and they also tend to be available at great prices that beat the cost of most digital cameras. Analogue photography has enjoyed a revival in recent years, and the trend shows no signs of going away just yet. Instant cameras let you have a slice of the pie without the steep learning curve, expense and hassle of more complicated film techniques. 
There's a few things to think about when picking the best instant camera. The lowest priced models will usually amount to little more than toy cameras with basic point-and-shoot settings, while slightly more advanced cameras also come equipped with options such as macro focusing modes. Many of the best instant cameras on the market keep up-to-date by including hybrid digital functionality, allowing you to hook them up to your smartphone, or conversely by enabling printing of snaps from your camera roll or social media.
Quality of print and the type of film an instant camera requires is also definitely worth giving some attention to. Although no instant brand delivers super accurate results (and that's part of the charm), it's Instax which arguably delivers the most natural prints. The best Polaroid cameras, on the other hand, tend to have a dreamier look, which is what you might prefer anyway. 
While instant cameras are often pretty cheap, you'll need to remember to factor in the cost of film. It can add up pretty quickly, so pay attention to the price per unit – and think about how many pictures you think you're going to want to shoot to satisfy your needs. Instant cameras with digital screens that allow you to preview your shots help to dramatically reduce wastage, so they're worth considering if budget is a concern.
Our current choice for best instant camera 2021 is the Fujifilm Instax Mini 11. This simple, inexpensive and fun camera is a great choice for anyone toying with the idea of a retro camera, giving you just enough features to create enjoyable prints.
Keep reading to discover our pick of the rest – since it might be another camera that's the best option for you. Our list includes a great range of different instant cameras, meaning you should find something suitable no matter your budget, your style or your level of skill. We've also kept a few older models in the list that still offer great value.
Best instant cameras 2021 at a glance:
Fujifilm Instax Mini 11
Fujifilm Instax Mini 70
Polaroid Now
Fujifilm Instax SQ1
Polaroid Go
Canon Zoemini S
Fujifilm Instax Mini 40
Fujifilm Instax Wide 300
Fujifilm Instax Square SQ6
Fujifilm Instax Mini LiPlay

Best instant cameras in 2021: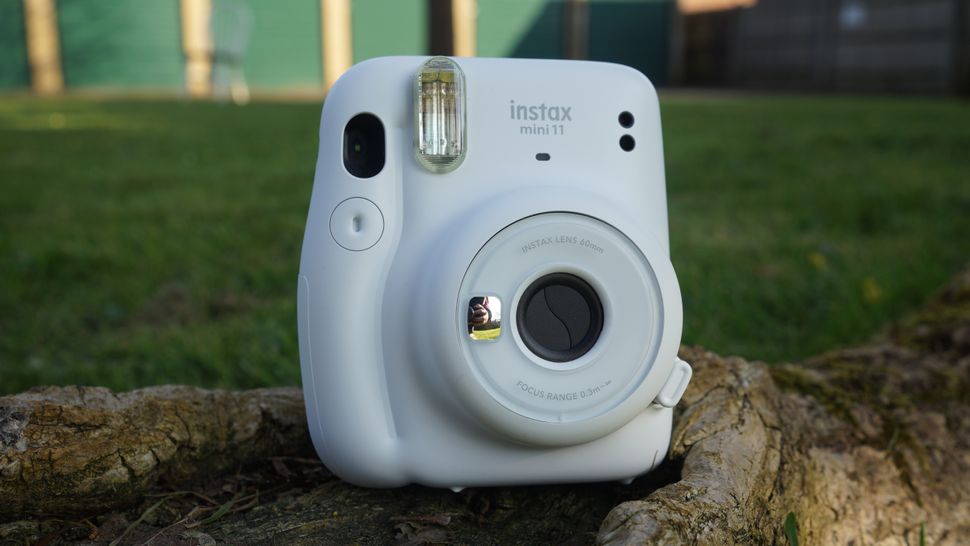 If you're looking for an affordable, easy-to-use camera that won't overwhelm anyone that's new to instant photography, Fujifilm's Instax Mini 11 is our current favorite.
It may lack the more advanced modes and controls that you'll find on more expensive models, but that's a big part of its charm. An auto exposure system takes out a lot of the guesswork, meaning you just have to point and shoot to get decent credit card-sized instant prints.
A tiny mirror built into the front of the camera and a pop-out lens barrel for close-ups means it's easy to get an instant selfie, while the affordable packs of Instax Mini film make it a great addition to any party. It's available in a range of fun colors, so you should be able to find one that suits your style.
Another great thing about the Instax Mini 11 is how great it is as a present. Available at a reasonable price, it'd make a lovely gift for a photography fan – especially young ones – who are keen to experiment with the medium. Remember to factor in some extra cash for film, though. 
Read our in-depth Fujifilm Instax Mini 11 review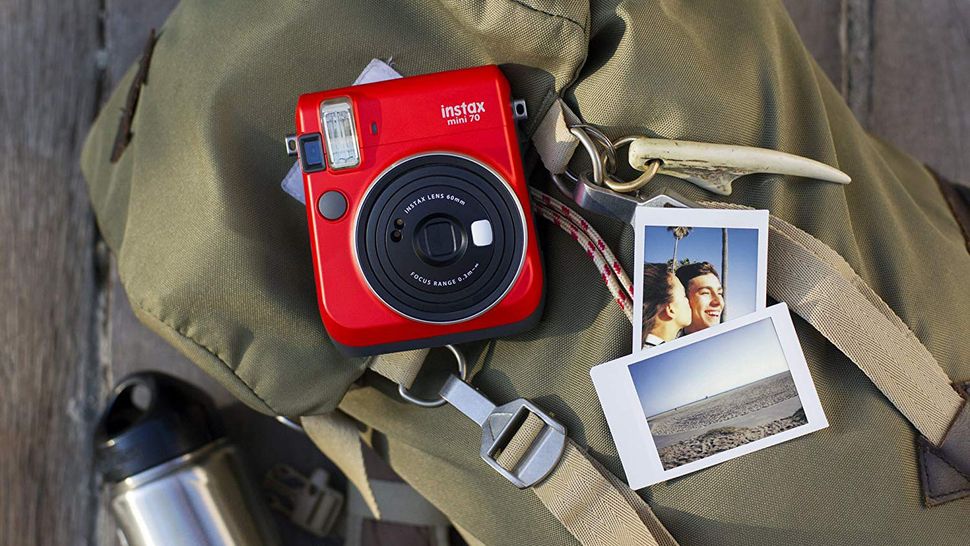 Slightly more advanced than the Instax Mini 11, the Instax Mini 70 comes with five shooting modes (including that all-important selfie mode). Despite having a few more features, it doesn't cost too much – but again you need to factor in some budget to pay for some Instax Mini Film. 
In terms of usability, one thing to be careful of with the Instax Mini 70 is obscuring the flash with your finger when you're taking shots vertically, but you get used to how it works with enough practice. 
All of the modes are automatic, so everything is taken care of – focusing, exposure and flash are a doddle, but it would be nice if you could control the flash manually (see the more expensive Instax Mini 90 for full control).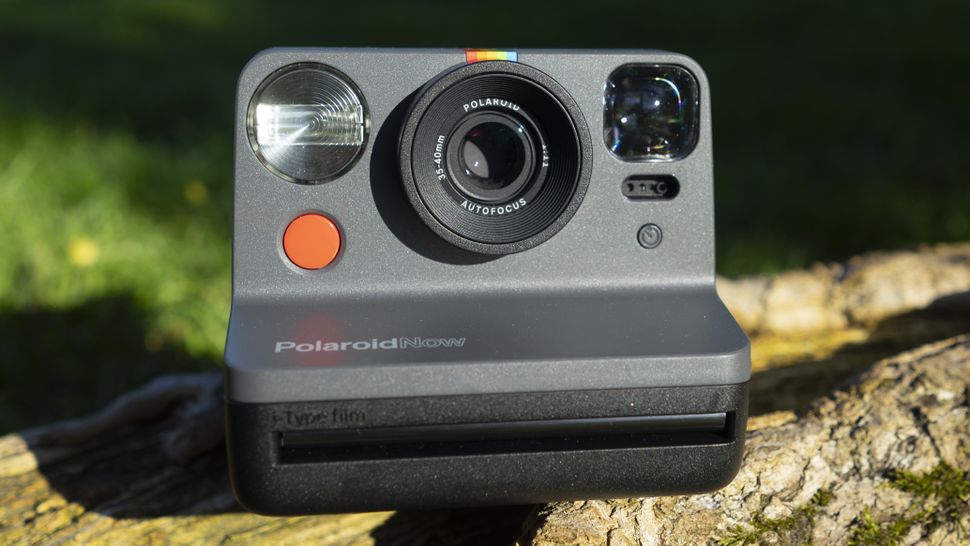 Upgrading a retro camera might seem like a contradiction in terms, but the Polaroid Now takes the Onestep 2, streamlines the shell and adds autofocus abilities to create an even better instant photography tool.
Physically, it bears a strong resemblance to its predecessor, retaining that iconic – if bulky – throwback form but removing a few buttons, refining the viewfinder and replacing the LED lights with a much clearer digital shot counter.
It remains a model designed for quick and easy snaps, and the new autofocus makes that simpler than ever, proving largely consistent in spitting out sharp, distinctive shots. It also eliminates much of the guesswork associated with a fixed-focus system – a welcome development, given the high price of I-Type film.
It's not totally reliable – exposure can be inconsistent, with the automatic flash sometimes firing unnecessarily outdoors, or doing the opposite indoors – but that's a flaw common to many cameras of its ilk. On the whole, the Polaroid Now feels like a definite step forward, delivering big instant prints with a unique lo-fi look – and a foolproof shooting experience.
Read our in-depth Polaroid Now review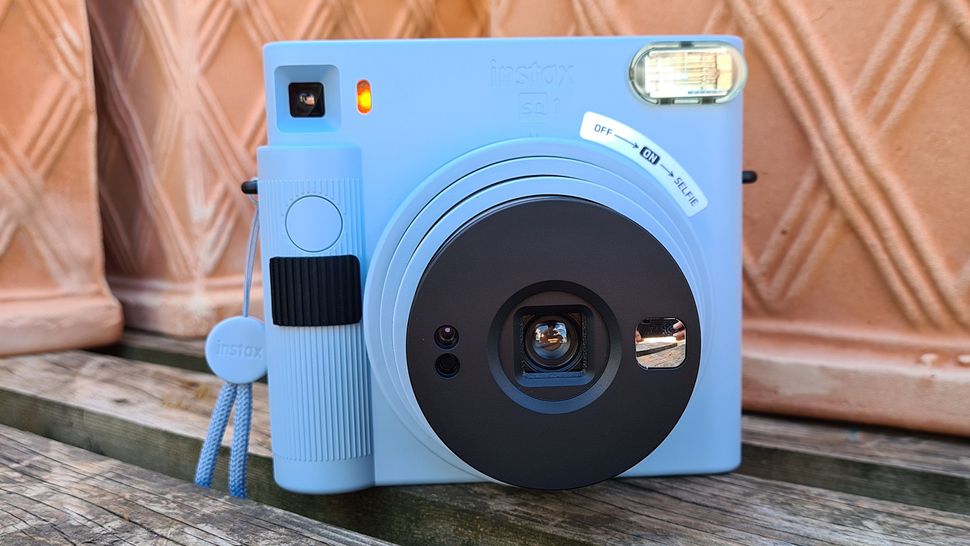 The value-minded SQ1 makes Fuji's Instax Square format film that much more approachable for anyone unfamiliar with instant photography. It has the same easy- to-understand features and useful auto exposure system of the Instax Mini 11, only the photos it spits out are almost twice as large.
An adjustable lens barrel and built-in mirror are useful for close-ups and selfie shots, and the automatic flash is usually smart enough to keep indoor and low-light snaps looking good once they develop. There aren't any other shooting modes to think about, or even luxuries like a tripod thread, and the plastic construction feels noticeably less premium than the more expensive Instax SQ6, so this is a camera better suited to instant newcomers rather than creatives looking to experiment with the medium.
Still, it's a welcome step up from the entry-level Instax for those wanting larger prints, without adding a handful of extra features they may not want to use.
Read our in-depth Fujfilm Instax SQ1 review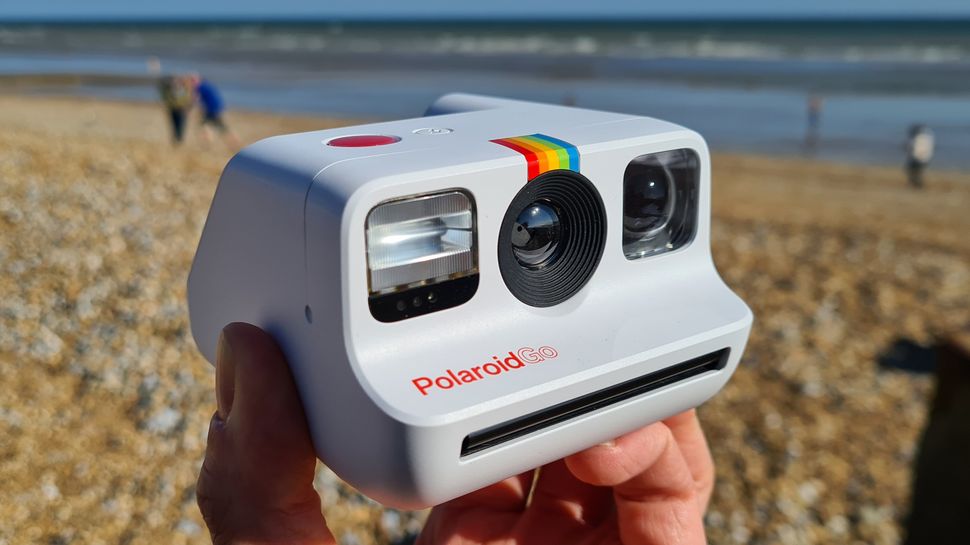 With the Go, Polaroid has edged ahead of Fuji on instant innovation – something that hasn't really happened since the late 1980s. It's officially the world's smallest analogue instant camera, fitting squarely in the palm of your hand.
It's true that some hybrid instant cameras are even more pocketable, but they tend to 'cheat' by printing images on Zero Ink paper, rather than with a chemical development process. You get the real deal here, in square format just like the larger I-Type film, only significantly smaller.
It's a shrunken-down version of the Polaroid Now (see above), with most of the same features, including self-timer and double-exposure mode, which should please more advanced photographers as well as instant beginners. Autofocus sadly hasn't made the cut, however, so there's a higher chance of ending up with blurry results if you don't keep a good distance from your subject.
At launch, it costs roughly the same as the full-size Polaroid Now, making it a lot pricier than the entry-level Fuji Instax Mini 11, but that's a figure worth paying if you want an instant camera you can take just about anywhere.
Read our in-depth Polaroid Go review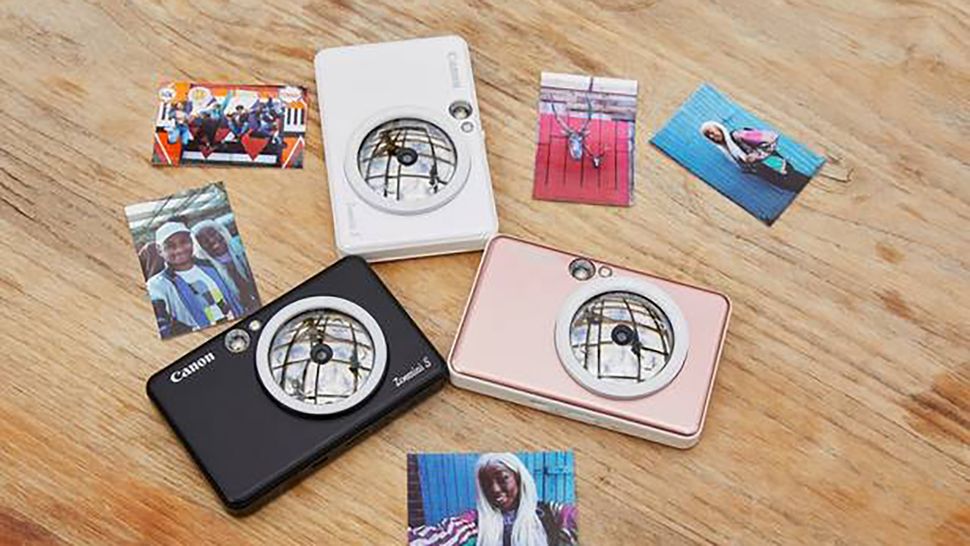 Canon's first instant effort is actually more of a hybrid, blending analogue 'film' with digital smarts. The Zink (zero ink) paper it uses doesn't need exposing to light like regular instant film, so the camera can be much smaller. The Ivy Cliq+ / Zoemini S is truly pocket-sized, beating even Fuji's Instax Mini LiPlay for portability. 
A built-in LED ring flash helps you take pleasing portraits, the mirrored lens barrel is purpose-built for selfies, and focusing is automatic, making this a great party camera. Still, it can be sluggish to start up and printing a picture takes around 10 seconds – much slower than our current favorite, the Fuji Instax Mini 9. The credit card-sized prints it produces are much more detailed, though, with colors more like a traditional 35mm photo than the dream-like lomographic effects seen with other instant film. 
Battery life typically stretches to two packs of 10 images, but even with an SD card installed, it won't take any more pictures once you're out of film. The 8MP sensor is merely on par with today's entry-level smartphones, and with no built-in screen, you'll need a computer to review your digital snaps. 
It seems a lot simpler than other hybrid cameras, but built-in Bluetooth support lets it perform double duty as a portable printer. Being able to turn your smartphone snaps into physical prints gives it an edge over bulkier instant cameras, and it's sensibly priced too.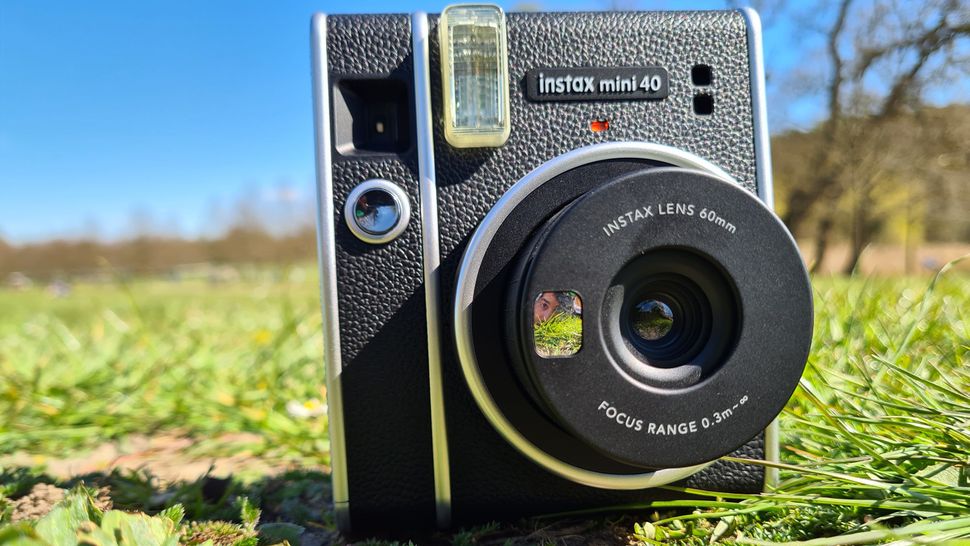 If the Instax Mini 11 (see above) looks just a little too toy-like for your tastes, the Mini 40 is a more design-centric alternative. It has the same retro styling as Fuji's more expensive instant cameras, only underneath the skin it's mechanically identical to the Mini 11.
With variable shutter speed, an automatic flash and auto exposure system that work together to ensure more of your photos produce usable results, and an adjustable lens barrel that's purpose-built for selfies, it's easy to recommend for both newcomers to instant film, and those that already appreciate the medium. It uses Instax Mini film packs, which is still among the most affordable kinds on the market. 
There are no extra features, shooting modes or accessories to think about, which might put off anyone looking to get creative with their photography, and it also carries a price premium at launch. That makes it less easy to recommend than the Mini 11.
Read our in-depth Fujifilm Instax Mini 40 review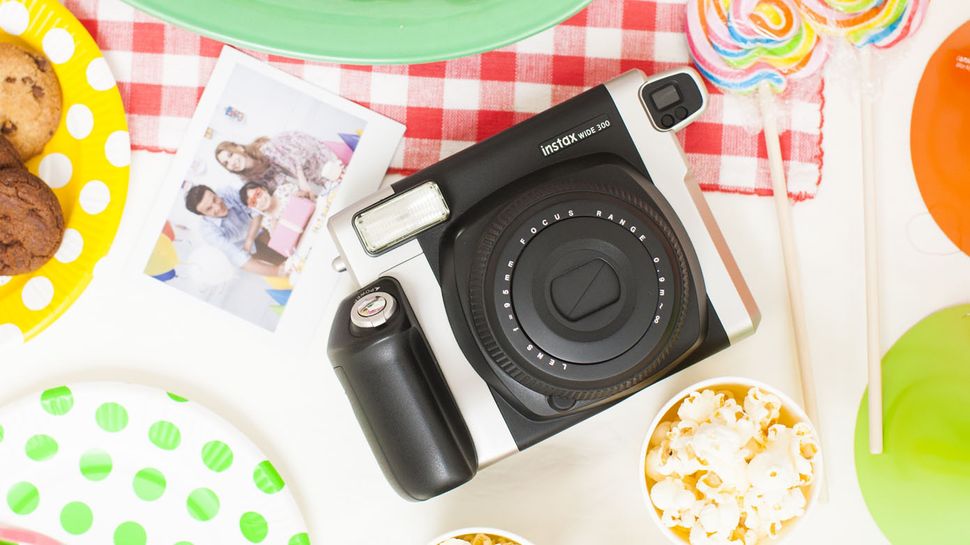 Big hardly covers it. The Instax Wide 300 is the size of an old-fashioned medium-format rangefinder camera, even a small folding field camera. It's because it uses Instax wide film packs rather than the regular Instax mini. The Instax 300 wide might look big and clumsy but it's light, and the generous grip makes it easy to hold and use. You power up with a spring-loaded switch around the shutter release, which extends the 95mm lens. 
The Instax wide format is much larger than a digital sensor, so this equates to a moderate wide-angle lens. For a big camera, though, the Instax Wide 300 has a tiny viewfinder. It takes practice even to get your eye lined up with the eyepiece. 
Otherwise, it's simple to use and delivers very good results. Where the regular Instax mini format produces small photo 'tokens', these are more like proper photographs – we'd love to see Instax producing a printer in this format , as it has done with its Mini and Square formats.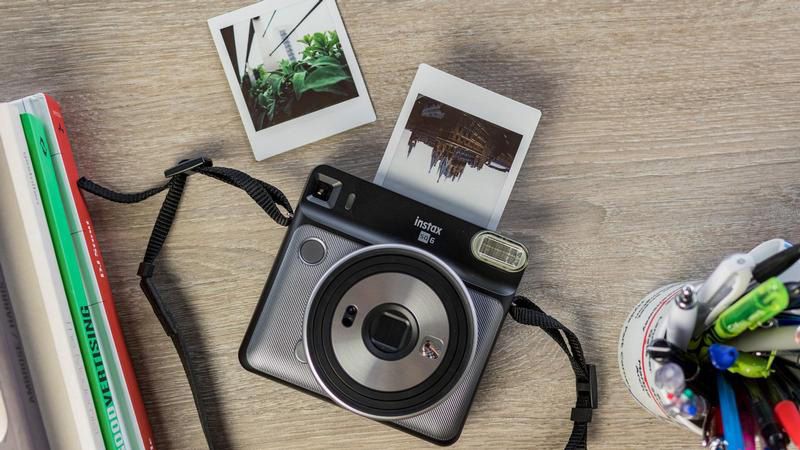 Unlike the original instax SQUARE model, namely the analog/digital hybrid SQUARE SQ10, the SQ6 has a different idea in mind. Shaped like the Instagram logo and very much targeted at the kind of younger user who shares their creations on the platform, the camera runs on a pair of CR2 batteries and spits out 6.2×6.2cm prints, with the selfie mirror integrated into the front of the camera allowing for more effortless self captures. 
Instax square prints feel like more serious photographs, with their larger size giving your subject more room to breathe. Fujifilm throws in orange, purple and green flash filters to allow for an instant injection of colour into images, and as the body is nowhere near as cumbersome as some of the other options here, it ends up being as convenient to carry as it is fun to use.
This is another great option for a gift, too.
Read our in-depth Fujifilm Instax Square SQ6 review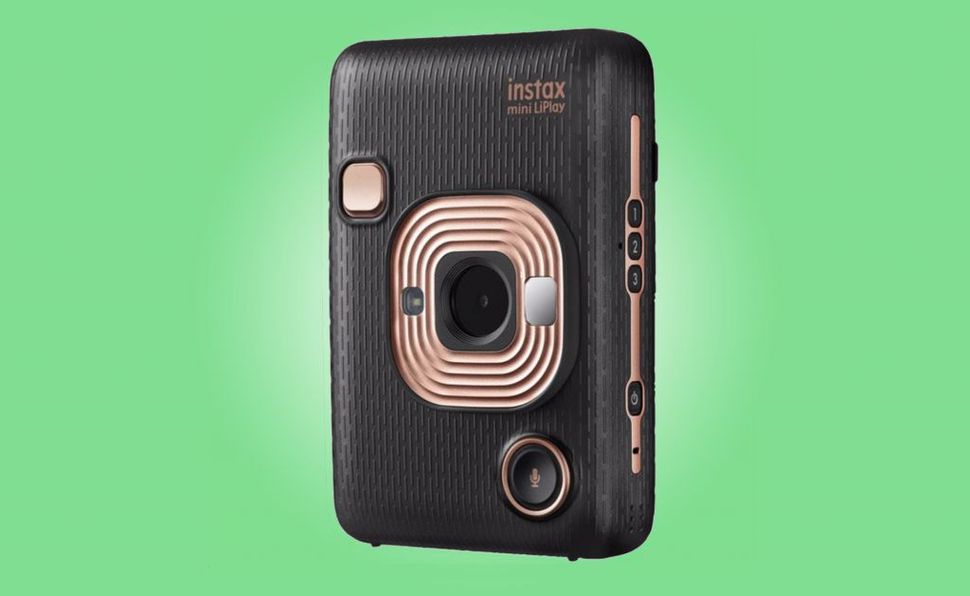 Combining retro-analogue charm with modern-day digital credentials, this is essentially a basic, low-resolution digital camera with a printer built-in for making instant snapshots. This gives you the opportunity to properly frame up your subject, and check it's something you actually want to print, before wasting expensive film (it uses Instax mini). 
One of the gimmicks of the LiPlay is the function to record a sound along with your image capture and "embed" it on to your print in the shape of a QR code. You can then gift that to a friend and ask them to scan the code to playback the sound – modern digital ways are much easier though so how much you bother with that remains questionable. 
You might find that purchasing an Instax mini printer is a better option for better quality prints, but the LiPlay is a fun option for kids and parties.

Which instant camera film should you choose?
1. Instax Mini
The most common instant film format, producing pictures measuring just 62 x 46mm.
2. Instax Square
Fuji's take on the square format film popularized by Polaroid. Camera support for these 62x62mm photos is more limited.
3. Instax Wide
Twice the size of instax mini and twice the price, but photos measure a meatier 99 x 62mm. 
4. Polaroid I-Type
Designed for use in the Impossible I-1and OneStep 2, I-Type film packs don't have batteries built in, so can't be used with vintage Polaroids.
5. Polaroid 600
Film designed for vintage Polaroid 600-type cameras. It can also be used in the Impossible I-1 and OneStep 2.
6. Polaroid Zink 2×3
Credit-card sized instant film that uses heat-sensitive ink to produce images. Colors are more traditional than Instax. Compatible with many Zink-based cameras and printers.

Best camera
Best camera for beginners
Best digital photo frames
Best DSLR
Best mirrorless camera
Best full-frame camera
Best compact camera
What camera should I buy?
Mirrorless vs DSLR: 10 key differences


Source from www.techradar.com