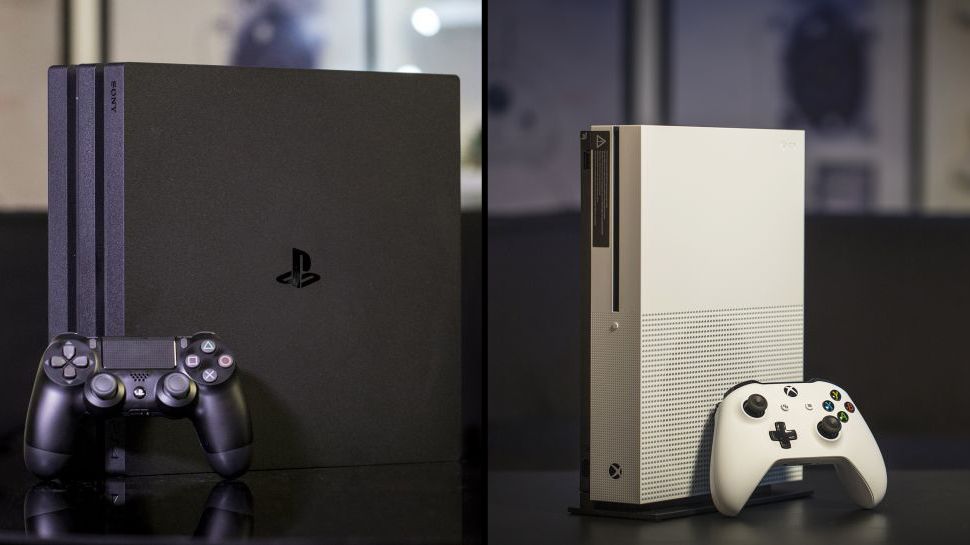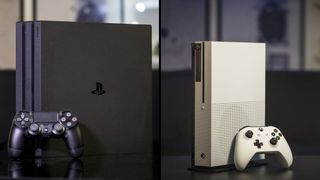 The battle between PS4 vs Xbox One has been long-fought and if you're thinking about picking up one of Sony and Microsoft's last-gen consoles, then you're probably looking for a definitive result.  
If you've yet to pick up either Sony's PlayStation 4 and Microsoft's Xbox One S, and you're still not sure which console is right for you, we can help you make an informed buying decision.
Though the PS5, Xbox Series X and Xbox Series S are the latest and greatest consoles, the PS4 and Xbox One shouldn't be dismissed just yet. New games are still releasing on these platforms and if the latest hardware and native 4K resolutions aren't absolutely essential to you, then you can pick up these consoles for excellent prices at the moment. 
In fact, with the mid-generation upgrades Xbox One X and PS4 Pro now beginning to be discontinued (and therefore hard to find new) and stock for both the Xbox Series X and PS5 proving rather scarce, these last-gen consoles are probably still the easiest way to access some of the latest games as well as subscription services like Xbox Game Pass and PlayStation Now. 
So, if the current-gen battle between PS5 vs Xbox Series X isn't relevant to you just yet, then we can help you decide whether the PS4 or Xbox One is the right console for you by comparing design, prices, features and the games they gave to offer. 
Xbox Series X vs PS5: the two consoles go head to head
Where to buy PS5: all the retailers checked
Where to buy Xbox Series X: who has stock?
PS4 vs Xbox One price comparison
The PS4 and Xbox One prices seem to change by the week, with price drops and bundle deals coming and going faster than handheld PlayStation systems. Add in special events, such as Amazon Prime Day and Black Friday, and dedicated storefront sales it can be hard to keep track.
While all of these bundles are great for consumers, it can be hard to keep up with the latest pricing info. So, in an effort to cut through the noise, here are the latest prices and bundles for each console.
While the original iterations of the Xbox One and PS4 launched in the same month, the console upgrades were more staggered, adding a little bit more confusion to the Xbox One vs PS4 question.
Simplifying matters slightly, though, Sony and Microsoft appear to be discontinuing their more powerful 4K-capable mid-gen upgrades, the Xbox One X and PS4 Pro. This means that new stock can be really quite hard to come by and you might have to look for second hand consoles.
If you want to dial back the cost of either console, check out the latest prices for the Xbox One S and PS4 Slim.
Look, we want to save you some time here in your PS4 vs Xbox One deliberations. So the box on the right will take you through some of the finer details of each console with their upgraded models, if that's what you're after. Otherwise, we'll be comparing the ecosystems of each platform in the rest of the article below.
For our top deals check out our US PS4 bundles, UK PS4 bundles, and Australian PS4 deals pages.
Or check out our Xbox One X bundles, US Xbox One bundles, UK Xbox One deals and Australian Xbox One deals pages.
Xbox One vs PS4: hardware and design
The PS4 has a slim version and a 4K PS4 Pro
The Xbox has the Xbox One S, Xbox One S All-Digital Edition and Xbox One X
Both the Xbox One and the PS4 have different versions that you can buy right now. The PS4 has two and the Xbox One has three. This is different than in the past, when each console existed on its own, and lasted an entire generation. 
The Xbox One S improved on the design of the original Xbox One by cutting down a lot of the heft, and removing the gigantic power brick, making use of an internal power supply instead. It measures 11.6 x 8.9 x 2.5 inches, and unlike the previous version includes a 4K Ultra-HD Blu-ray player – it will even upscale 1080p games to 4K, as long as you have a TV that can support it.
However, if you prefer a more streamlined version of the Xbox One S then the Xbox One S All-Digital Edition may be more your cup of tea. The 1TB disc-less console looks and performs like its predecessor but lacks a disc drive – so that means no Blu-ray or physical discs.
The Xbox One X might be heftier than the Xbox One S, but it's still considerably smaller than the original Xbox One, coming in at 11.81 x 9.44 x 2.36 inches and weighing around 8.4 lbs (this console also has an internal power supply). This is the high-powered version of the Xbox One, with native 4K gaming as well as a 4K Ultra-HD Blu-ray player (something not even the PS4 Pro can boast).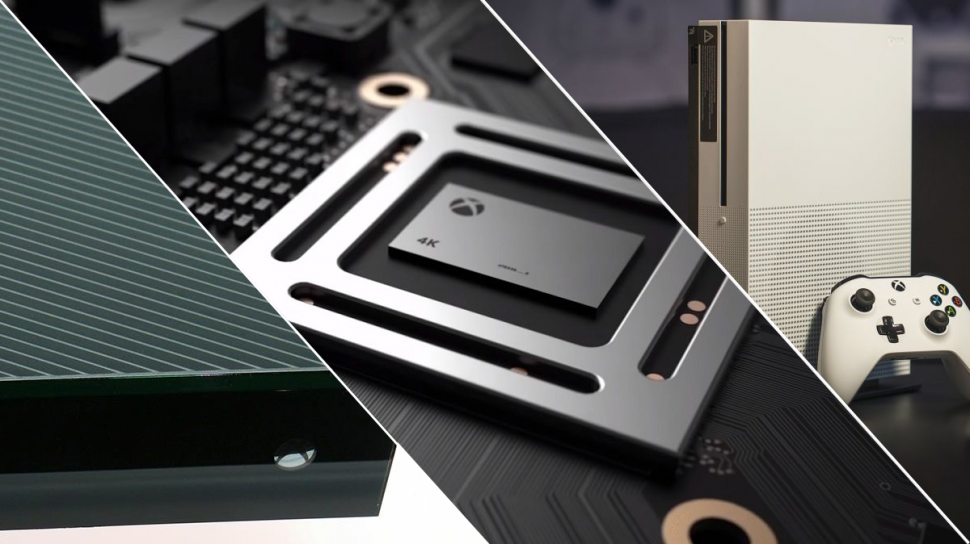 Our guide to the Xbox One X vs Xbox One S will clue you in as to the differences in the Xbox family. 
Starting out on the PS4 side of the equation, the PS4 Slim is straight up the smallest of the major consoles available right now, measuring in at 10.4 x 11.3 x 1.5 inches and serving as the baseline PS4 for most consumers – a complete replacement for the original PlayStation 4. It doesn't give you 4K resolutions, even for video, but it can still play every game from the PS4's impressive library.
The PS4 Pro was the original 4K console, coming out an entire year before the Xbox One X – even if Microsoft's box eventually outpowered it. It measures 12.8 x 11.6 x 2.1 inches. While the PS4 Pro does to at least some extent support native 4K gaming, it doesn't include a 4K Ultra-HD Blu-Ray Player, an omission that has attracted some flak for Sony.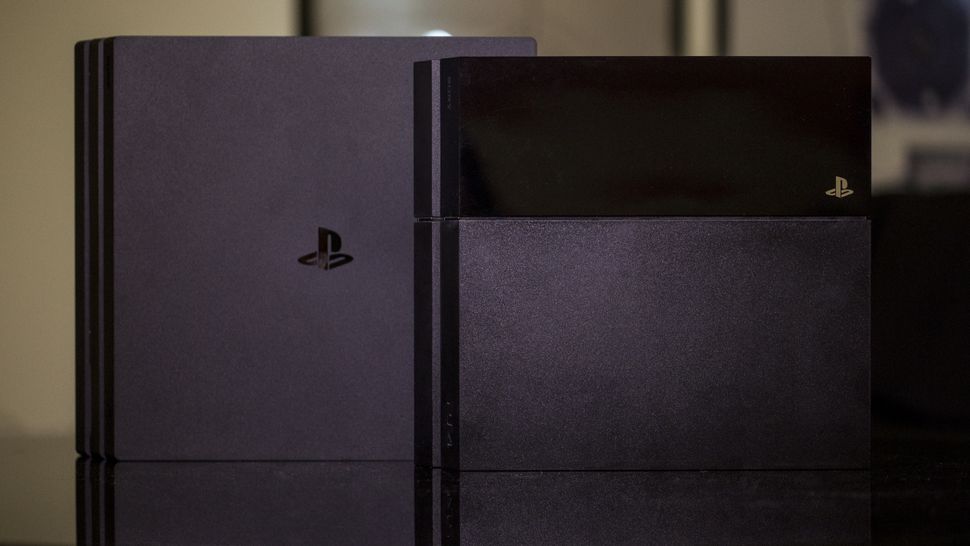 Our guide to the PS4 Slim vs PS4 Pro outlines the differences between the consoles in more detail
Xbox One vs PS4: connectivity
You can't upgrade Xbox One's internal hard drive, but you can on the PS4
Both consoles support the use of external hard drives
The Xbox One has more ports on its rear
Depending on how your gaming setup is organized, the connectivity of your console could be an extremely important detail.
Both the Xbox One S and X have identical ports, each including two HDMI ports, one for receiving an input from a cable or satellite box, and one that inputs to your TV. On top of those, they've each got two USB-3 ports, IR outputs, optical audio out, Ethernet ports and, of course, the power cable – which is compatible with both versions of the Xbox. However, due to the quick and tragic downfall of Kinect, if you want to use a Kinect with either version of the Xbox One you'll have to go out and get an adapter. 
The PS4 Pro and PS4 Slim have similar inputs, although they are slightly different. Each has a single HDMI out, a single USB port in the back (two in the front), an Ethernet port, and power. The only difference between the Pro and the Slim is that the Pro has an Optical Audio out, while the Slim drops it. One of the most compelling things about the connectivity of the PS4, however, is that both versions allow users to swap out the internal hard drive with another one of their choice.
All versions of both the Xbox One and PS4 support 802.11 ac Wi-Fi and Gigabit Ethernet – so no matter which console you decide on, you won't have to worry about network compatibility.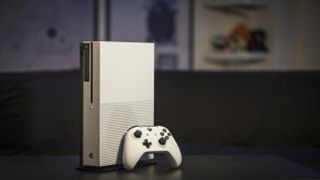 PS4 and Xbox One are devoid of remarkable characteristics on the front. There's a Blu-ray/DVD combo drive to the left (which can play Ultra HD Blu-rays on the Xbox One S and Xbox One X) and their respective, muted-color logos to the right. PS4 has a pair of USB ports tucked between its sandwich-like halves next to where the disc drive is located.
One thing the Xbox One pulls ahead with is smart home integration. 2018 saw Microsoft announce support for Amazon's Alexa voice assistant, meaning your Xbox One can communicate with Amazon's line of Echo smart speakers or other Alexa-enabled devices – and might be a practical alternative to using voice commands through the now defunct Kinect.


Source from www.techradar.com