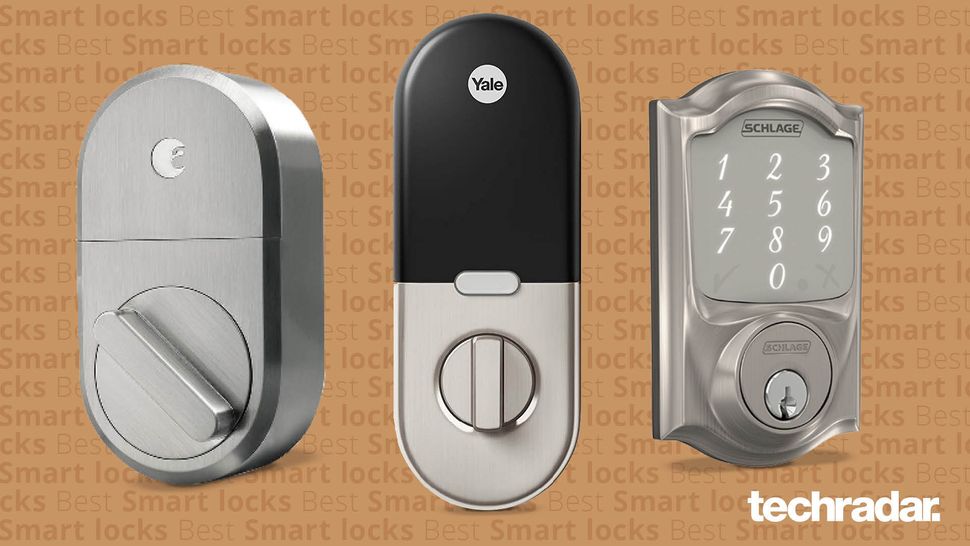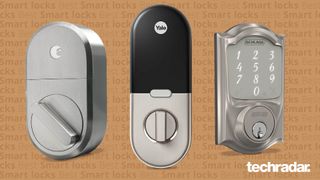 VERDICT
REASONS TO BUY
REASONS TO AVOID
The best smart lock ensures you can unlock your front door from your smartphone, without getting your keys out of your pocket. If you're forgetful, it's a great way to put an end to the nightmare of forgetting your keys.
The best smart locks come in a range of different designs; so whether you prefer a traditional look to your front door with a lock that conceals its smart, to those that feature touchscreens or keypads and do away with keys completely for a more futuristic style, there's a model to suit you.
Smart locks can also be a handy tool when it comes to keeping your house secure. They can be set to work with some of the best smart home devices to automate your property. For example, if your video doorbell or home security camera detects motion, a smart lock will automatically fasten, securing your property. 
Like most smart home devices, smart locks can also be controlled by voice assistants, automating your home even further. When it's time to go to bed, rather than scooting around your house switching smart lights and smart plugs off then locking the door, just let Alexa or Google Assistant do it for you. 
We've put an array of models to the test to discover just which are the best smart locks for 2021.
UPDATE: The latest version of Apple's operating system, iOS 15 is due out very soon, and a digital keys function is among a range of new features it's bringing to Apple smartphones. If you have a HomeKit compatible smart lock, you'll be able to store a digital key in the Wallet app and unlock your front door with just a tap. You'll even be able to share these digital keys with other Apple IDs in the same way you might lend them a physical key when they're checking in on the dog, or moving the post if you're on holiday.
The best smart locks 2021: ranked
The Nest x Yale lock is the best we've tested, although it only works with other Nest smart home products, such as the Nest Learning Thermostat and its range of home security cameras including Nest Cam Outdoor.  
Simple to use, the Nest x Yale lock looks stylish and is available in Satin Nickel, Oil Rubbed Bronze, and Polished Brass, so no matter what your style is, you should find something that fits.
It is easy to set up and features a keypad on the outside, so you punch in a code to enter your house, rather than insert a key. This is great if your keys are shoved way down in your pockets or purse. On test, we were impressed with the one-touch locking feature, that allows you to lock your door just by pressing the Yale logo. We also found the app clear and simple to use too
Read the full review: Nest x Yale Smart Lock
If you have a lot of house guests when you're not around, the Schalge Sense is the best smart lock for you, as the app can generate (and delete once they've been used) codes so your guests can access the property without a key.
Easy to install, the Schalge Senseorks with Apple's HomeKit, so you can control your lock using devices like an Apple TV, iPad or HomePod speaker through the HomeKit app. The lock also supports Google Assistant and Amazon Alexa, allowing you to use just your voice to unlock and lock the device. However, it is on the bulky side. 
We also found app is fiddly to use and you'll need patience to deal with dropped connections from time to time. 
Read the full review: Schlage Sense Smart Lock
The August Smart Lock Pro is one of the most discreet smart locks on the market, in fact, from the outside, you would never know it's there. 
On test, we found the smart lock would automatically unlock when we were 20-30 feet from our door, granting us easy, keyless access, although you can still use your existing keys if you'd prefer. 
You will need a Wi-Fi bridge in order to unlock the full potential of the August Smart Lock Pro, but the August Connect bridge is included when you purchase the lock. It's also an expensive smart lock compared to the rest of the market, but we think it's worth the investment. 
Read the full review: August Smart Lock Pro
The Kwikset Obsidian is a great-looking smart lock. It hugs tight against the door for a low profile, and has a glassy sheen that adds a touch of elegance to any door. It's completely keyless, with only a touchscreen for entering access codes. You can create up to 16 logins for family and friends. 
The lock also includes a patented Kwikset safety feature called SecureScreen that basically prevents someone from seeing where you've touched the screen to input your code (it generates random digits that you have to press before entering your actual entry code). 
This is to prevent someone from simply looking at where your fingerprint smudges are and copying the code that way. However, while it works with Alexa, there's no HomeKit or Google Assistant support. 
Should I buy a Quikset Obsidian Smart Lock?
How we test smart locks
To compare the best smart locks we assess how easy they are to install and control. We  evaluate how quickly they respond to commands such as locking and unlocking the door, both when we're at home and when we're no longer close-by. We also check whether they integrate with Alexa, Google Assistant or Siri, and how effectively the relevant voice assistant responds to commands to control the smart lock. 
We also assess each model on its ability to replace different styles of door locks, as well as how durable it is, and the extra kit such as hubs that's also available for the smart lock. We also consider whether it can be used with a key in case the Wi-Fi network, any functions that let you provide short term access to friends and family, and and that it didn't require reading a thick instruction manual before use. 
What to consider when buying a smart lock
What to consider when buying a smart lock
If you're trying to choose the right smart lock for you, there are a number of considerations you should take into account before deciding on the ideal model for you. 
Some smart locks connect to your smartphone using Bluetooth, but that means you'll only be able to lock the door if you're close by. However if you're the forgetful type that struggles to remember to lock the door, a design with Wi-Fi built-in or that uses a bridge to connect to the internet and relay instructions from the cloud, will ensure it can be locked or unlocked even if you're no longer at the property. 
The styling of the smart lock and whether it will fit with your current decor should also be contemplated; as there's a wide array to choose from including traditional-looking devices that disguise their smarts to futuristic designs with keypads and touchscreens.
Not all smart locks integrate with all voice assistants, so check a model is compatible if you already use a voice assistant in your home, and whether it will integrate with other smart home devices you already own such as home security cameras, video doorbells and smart lights.
Also consider if you need the ability to give friends and family short-term access to the lock, and if so, does the smart lock offer activity logs so you can review who's accessed your home and when.
Are smart locks safe?
Like any internet-connected device, there is a risk that smart locks could be hacked. However some good security practices will help minimize the risk. If there's a default password on the smart lock, always change it and opt for a unique password, avoiding duplicating passwords from other accounts, and using a mix of upper and lower case letters, numbers and special characters. Ensure it doesn't contain personally identifiable information either. Make sure you home Wi-Fi also has a strong secure password and the firmware for smart lock is up-to-date.
How do smart locks work?  
Smart locks are keyless devices that connect to your home Wi-Fi and can be opened by your smartphone, some also come with a keypad so a code can be entered to unlock it too. Most smart locks work with voice assistants such as Alexa or Google Assistant so you can use your voice to unlock them too. 
Some smart locks replace your existing lock completely, so you'll need to be confident with DIY if you want to install them yourself, while others simply fit over the existing lock and require far less DIY.  
Many of the best smart locks can be used with smart home hubs, such as the best smart speakers and smart displays, to create home automations. For example, you can secure your smart lock and arm your home security cameras with one command, or at a certain time if you're leaving the house, or perhaps going to bed. It's worth noting that not all smart locks will work with all voice assistants and smart home hubs, so if you already have an established smart home, check a device is compatible before you buy. 
Check out these great smart home device deals


Source from www.techradar.com